Blimp Bounce is an activity in JumpStart Around the World. It is designed for grades preschool through second grade, and doesn't teach any educational skills. It is accessed by selecting the blimp travel option at the travel menu, and costs three travel tokens to play.
Description
The player moves a blimp back and forth with the mouse. The player's travel buddy will bounce off of the top of the blimp and break clouds by touching them. The player must catch their travel buddy with the blimp whenever they drop. Each time the player fails to catch their travel buddy, they lose a try. Sometimes, one of the clouds will briefly turn bright yellow. If the travel buddy touches a bright yellow cloud, a second travel buddy will appear. The activity is completed when all of the clouds have been cleared.
One the easier levels, there are less clouds to clear. The higher the difficulty, the more rows of clouds the player has to clear to complete the activity.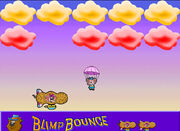 Click to begin the game. Move the blimp from side to side with your mouse. Use it to bounce your Travel Buddy off the clouds, causing them to disappear. Clear away all the clouds to win the game.
Keep an eye out for shiny yellow clouds. If your Travel Buddy bounces off one of those, you get a Twin Travel Buddy for double the blimp bouncing fun.
Gallery
Ad blocker interference detected!
Wikia is a free-to-use site that makes money from advertising. We have a modified experience for viewers using ad blockers

Wikia is not accessible if you've made further modifications. Remove the custom ad blocker rule(s) and the page will load as expected.