This article or section needs some help. You can give JumpStart Wiki a hand by adding:

a description of difficulty levels
The Caves of Cumae is a location and activity in JumpStart Reading for Second Graders. It is designed to teach parts of speech at a second grade level.
Characters
Description
Location
The Caves of Cumae is one of six locations that appears in CJ's field book. It is one of the locations which contains a Jewel Room, which CJ and Edison must access to obtain rubies and diamonds for their quest. The guardian of the Jewel Room in the Caves of Cumae is Sybil.
Activity
In the activity, the player must guide CJ around the cave by using the arrow keys to move and the spacebar to jump. Sybil will instruct the player to find words of a certain category, either nouns, verbs, adjectives, or adverbs. The player must move CJ to gems in the cave to uncover the words, then press the spacebar to select a word if it is correct. Once all the correct words have been selected, the player must move CJ to the lever at the bottom right corner of the screen.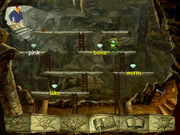 Sybil will guide you to the Caves of Cumae.
Object - Help CJ get through the caves and open the door at the other end without getting hit by falling rocks or flying bats.
Gameplay - The right and left arrow keys move CJ to the right and left. The up arrow key makes him climb up ladders while the down arrow key makes him duck or climb down ladders. Press the spacebar to jump and also to select/deselect an answer.
Curriculum - Nouns, Verbs, Adjectives, Adverbs
Gallery
Ad blocker interference detected!
Wikia is a free-to-use site that makes money from advertising. We have a modified experience for viewers using ad blockers

Wikia is not accessible if you've made further modifications. Remove the custom ad blocker rule(s) and the page will load as expected.