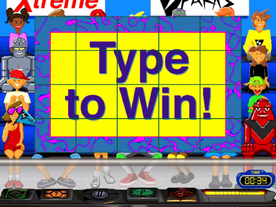 The
Fans' Stadium
is an
activity
in
JumpStart Typing
. It is used to flip cards making a picture or a message.
Sign Puzzle
The sign in a puzzle must be completed for flipping cards. It will match the correct key. Each time a card turns over, they reveal part of a picture or a message.
Complete Picture or Message
The picture or message is finished when put together. It is done for flipping parts over to reveal what it is.
Trivia
This is the only activity in which no medals can be won.
Ad blocker interference detected!
Wikia is a free-to-use site that makes money from advertising. We have a modified experience for viewers using ad blockers

Wikia is not accessible if you've made further modifications. Remove the custom ad blocker rule(s) and the page will load as expected.