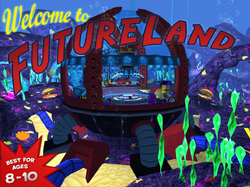 FutureLand is a location that appears in JumpStart (online game). It contains activities that are designed to teach math, language arts, science, and geography skills for third to fifth grade.
Appearance and Features
When players visit FutureLand, they are transported to the underwater Sea Lab. Here, they will be initiated into Dr. Brain's Secret Society. Val, the super computer, helps guide players through activities. Players can use Dr. Brain's time-traveling machine, the Time Slicer, to explore the Ancient and Industrial eras.
Gallery
External Links
Ad blocker interference detected!
Wikia is a free-to-use site that makes money from advertising. We have a modified experience for viewers using ad blockers

Wikia is not accessible if you've made further modifications. Remove the custom ad blocker rule(s) and the page will load as expected.