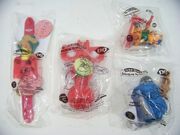 The JumpStart Dairy Queen toys are a set of four toys given out in Dairy Queen kids' meals in 2003. They are likely meant to tie in to the JumpStart Advanced series. One features Frankie, another Casey, another Hopsalot, and another CJ.
The four toys released are:
Hopsalot's Bright Bulb Revealer
Ad blocker interference detected!
Wikia is a free-to-use site that makes money from advertising. We have a modified experience for viewers using ad blockers

Wikia is not accessible if you've made further modifications. Remove the custom ad blocker rule(s) and the page will load as expected.