JumpStart Kindergarten: Why Did the Bus Stop? is a JumpStart video released on VHS in 1999.The video is approximately forty-six minutes long (despite the box saying it is thirty minutes long).
The game JumpStart Learning Games: Phonics is based on this video.
Story
The kindergarten students ride on the school bus to different locations and collect clues along the way to solve a mystery.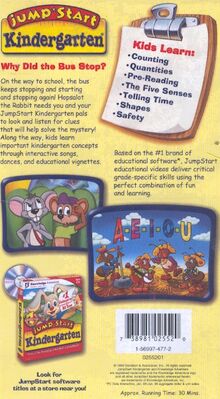 Characters
Songs
Educational Concepts
Counting
Quantities
Pre-Reading
The Five Senses
Telling Time
Shapes
Safety
Gallery
Videos