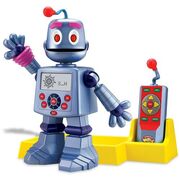 JumpStart World "Growing Smart" Laugh with Me Botley is a toy released in 2008. It was manufactured by KIDdesgins, Inc. and sold by Toys 'R' Us for a retail price of $39.99. It is designed to teach beginning math, language, and logic skills for young children roughly ages 3-7.
The toy is based on the character Botley. The player interacts with the toy by pressing the buttons on his body or by using the remote. The goal is to help get rid of Botley's "bugs" by answering questions. There are multiple difficulty levels, which adjust automatically. The toy can produce sound and speech, and its head, eyebrows, and mouth are able to move.
Activities
Logic Circuits
Letter Circuits
Word Circuits
Math Circuits
Game Circuits
Custom Game and Data Circuits
Educational Content
Basic math
Letter identification and recognition
Reading Comprehension
Logic and reasoning
Strategic thinking
Details
12.5 inches high
Requires 4 AA batteries
Features an English-to-Spanish translate button
External Links
Ad blocker interference detected!
Wikia is a free-to-use site that makes money from advertising. We have a modified experience for viewers using ad blockers

Wikia is not accessible if you've made further modifications. Remove the custom ad blocker rule(s) and the page will load as expected.