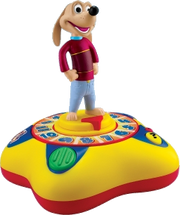 JumpStart World "Growing Smart" Turn N' Learn Frankie is a toy released in 2008. The toy was manufactured by KIDdesigns and sold by Toys "R" Us for a retail price of $19.99.
The toy features three learning modes: Letters Learning Mode, Numbers Learning Mode, and Shapes/Colors Learning Mode. The toy comes with three interchangeable rings. These rings fit on top of the toy, and each ring corresponds to one of the learning modes. Frankie will ask a question, and children turn the ring to select an answer.
Educational Content
Letter identification and recognition
Number identification and recognition
Shape and color identification and recognition
External Links
Ad blocker interference detected!
Wikia is a free-to-use site that makes money from advertising. We have a modified experience for viewers using ad blockers

Wikia is not accessible if you've made further modifications. Remove the custom ad blocker rule(s) and the page will load as expected.