This article or section needs some help. You can give JumpStart Wiki a hand by adding:

a description of difficulty levels
Machu Picchu is a location and activity in JumpStart Reading for Second Graders. It is designed to teach compound words and contractions at a second grade level.
Characters
Description
Location
Machu Picchu is one of six locations that appears in CJ's field book. It is one of the locations which contains a Jewel Room, which CJ and Edison must access to obtain rubies and diamonds for their quest. The guardian of Machu Picchu's Jewel Room is Tapir.
Activity
In the activity, CJ must cross a chasm of rocks to reach the Jewel Room. The player moves CJ using the arrow keys. A set of words will appear on the mountainside, and CJ must hop on the rock with the word that corresponds to the set. This repeats until CJ has crossed all four rocks to the other side. There are two modes: compounds words, where CJ must find the compound form of two words, and contractions, in which CJ must find the contraction form of two words.
Sometimes, various animals will appear on the chasm rocks that block CJ's path. Dr. Listick's henchman Stanley may also appear to set a few traps for CJ.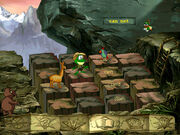 Tapir, the guardian of the Machu Picchu Jewel Room, has been eagerly awaiting the arrival of our heroes. In order to reach the Jewel Room, however, CJ and Edison must cross a treacherous chasm. Be sure to avoid the various obstacles that appear along the way!
Object - Make CJ jump on the word that matches the word or words on the mountainside.
Gameplay - Use the arrow keys on the keyboard to guide CJ to the correct word. Be careful to avoid obstacles that may appear on the stones.
Curriculum - Compound Words, Contractions
Gallery
Ad blocker interference detected!
Wikia is a free-to-use site that makes money from advertising. We have a modified experience for viewers using ad blockers

Wikia is not accessible if you've made further modifications. Remove the custom ad blocker rule(s) and the page will load as expected.