The Petting Zoo is a location that appears in JumpStart Kindergarten (1998).
Description
After the player wins four stars by completing activities around the schoolhouse, they earn a trip to the petting zoo. During each petting zoo visit, the player can use the camera to take one picture of any animal of their choice. Afterwards, the picture will appear in the player's photo album.
Animals at the Petting Zoo
Pony
Cow
Pig
Duck
Sheep
Goat
Chicken
Mouse
Caterpillar
Butterfly
Owl
Opossum
Rabbit
Turtle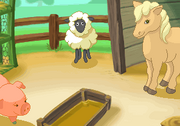 Each time you successfully complete a round in most games, you'll earn one star. After you earn 4 stars, you'll automatically take a field trip to the petting zoo! Play with the animals and snap a picture by clicking on one of the animals. Your picture will be stored in the Photo Album inside of your classroom! You can fill up as many pages as you'd like, so keep earning more stars!
Ad blocker interference detected!
Wikia is a free-to-use site that makes money from advertising. We have a modified experience for viewers using ad blockers

Wikia is not accessible if you've made further modifications. Remove the custom ad blocker rule(s) and the page will load as expected.