Pick a Pet is an activity in JumpStart Advanced Preschool: Fundamentals. It is designed for children at the preschool level, and it doesn't teach any educational skills.
Description
In this activity, the player chooses a pet to care for. There are seven pets to choose from: a cat, a dog, a hamster, a parrot, a turtle, a rabbit, and a lizard. The player must select one of the pets by clicking on it.
Once the player has chosen the pet they wish to care for, they must give it a name. Then the player will be sent to the preschool classroom where they can begin caring for their new pet.
This activity automatically starts when a new player signs in, or if a player has just finished caring for a pet and is ready to care for another one.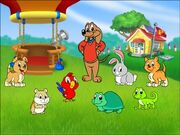 Game Play Instructions
Here's where the fun begins! Just click on one of the pets you'd like to care for first and pick a name for your newfound friend. You'll then be taken to the classroom, where you can choose from several games you'll need to play in order to receive rewards for the pet you've chosen.
Ad blocker interference detected!
Wikia is a free-to-use site that makes money from advertising. We have a modified experience for viewers using ad blockers

Wikia is not accessible if you've made further modifications. Remove the custom ad blocker rule(s) and the page will load as expected.