Pinca is a female chinchilla character who appears in JumpStart Explorers.
Appearance
Pinca is a somewhat chubby chinchilla with light gray fur and a medium-long, fluffy tail. She has three thick eyelashes on each eye and pink lips. She wears a red-orange robe, a colorful dress with a black, white, yellow, and red checker pattern on the upper half and a purple skirt as the bottom, and blue sandals.
In the Game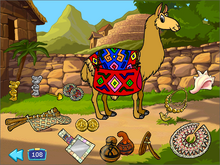 Pinca is an Inca villager. Her job is to take care of the llamas. She also transports various goods to the village with the llamas. She teaches the player how to do the Load the Llama activity.
Trivia
Unlike the majority of the other characters in JumpStart Explorers, Pinca doesn't seem to be based on any particular historical figure.
Ad blocker interference detected!
Wikia is a free-to-use site that makes money from advertising. We have a modified experience for viewers using ad blockers

Wikia is not accessible if you've made further modifications. Remove the custom ad blocker rule(s) and the page will load as expected.