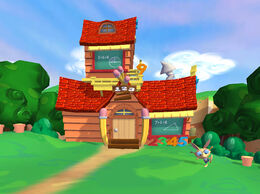 StoryLand is a location that appears in modern JumpStart games.
Description
StoryLand's features are mainly aimed at preschoolers. There are five main areas in StoryLand, each with their own sub-locations and activities.
My Neighborhood

The Learning House
The Dressing Tent
The Art House
My House
Picture Boards
The Movie House
Flower Pots
The Library
Music Players
Town Square

The Grocery Store
The Music House
Musical Caverns
Truck Parades
Pet Land

Pet Tent
Grooming Station
Pet Diner
Pet Stage
Pet Park
The Beach

The Submarine
Eleanor's Catch Game
Pierre's Flute Game
The Jungle

Kisha's Canoe Ride
CJ's Jungle Caverns
Fishing Hut
Hops' Hide and Seek
Residents
In the Games
StoryLand is one of the accessible areas, and is intended for ages 3-5.
StoryLand is one of the primary locations where the game takes place.
Gallery
External Links
Ad blocker interference detected!
Wikia is a free-to-use site that makes money from advertising. We have a modified experience for viewers using ad blockers

Wikia is not accessible if you've made further modifications. Remove the custom ad blocker rule(s) and the page will load as expected.