Word Duel is an activity in JumpStart Reading for Second Graders. It is designed to teach spelling for second grade.
Characters
Premise
CJ must compete against the villainous Dr. Listick in a game of Word Duel for possession of a diamond.
Description
The object of the activity is to place letters on a grid to spell out words. The player and Dr. Listick will take turns placing letters on the grid. Various letters will appear below the grid. Only one letter can be selected and placed on the grid per turn. To place a letter, the player must click on the letter they want, and then click the space on the grid where they want it to be.
Words can be spelled horizontally or vertically. When a word is spelled, those letters will disappear from the grid, leaving more room for new words. The first one to spell three words wins the duel and the diamond.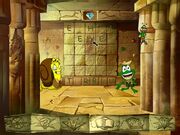 Congratulations! You have reached the Jewel Room!
Object - Grab a jewel to add to your collection. If you have fewer than 9 rubies in your possession, simply click on a stone door to select another ruby, then you're off to another exciting location. If you already have 9 rubies and have not yet collected the diamond from this site, you must face-off against the nefarious Dr. Listick in the Word Duel to win it.
Gameplay - Letters will appear at the bottom of the wall. Click on a letter to select it, then click a square on the wall to place the letter. Take turns placing letters until one of you spells a word. This will cause the floor under CJ to rise. After you have successfully spelled three words, CJ will be able to reach the diamond!
Curriculum - Spelling
Ad blocker interference detected!
Wikia is a free-to-use site that makes money from advertising. We have a modified experience for viewers using ad blockers

Wikia is not accessible if you've made further modifications. Remove the custom ad blocker rule(s) and the page will load as expected.